Kourt of ze Moon – Gloomspite Gitz Army Project – Episode 05
Es ist Mon(d)tag, das heißt, es ist Zeit für eine neue Kourt of ze Moon Episode. Dieses Mal möchte ich mich mit meiner Armeeliste auseinandersetzen. Zumindest für die ersten 1000 Punkte.
It is Mo(o)nday and that means it is time for another Kourt of ze Moon episode. This time I want to talk a bit more about my army list. At least for the first 1000 points.
Fangen wir doch mit dem wichtigsten an, dem General. Die Wahl war hier recht einfach und ich steige sofort groß ein mit einem Loonboss on Mangler Squig. Rakgrot persönlich sozusagen. Da er wohl die schlagkräftigste Einheit ist muss er dementsprechend gebuffed werden. Command Trait wird also Fight another day, damit ich ihn aus dem Kampf herausziehen kann. Command Traits kosten ja zum glück auch keine Command Points. Als Artefact bekommt er The Clammy cowl damit er schwerer zu treffen ist.
Let's begin with the most important part, the general. The choice was very easy here and I'll start with something big – a Loonboss on Mangler Squig. He might be the most powerful part of my army and has to get buffed accordingly. His command trait is Fight another day so I can pull him out of combat. Good thing is command traits don't need command points. The artefact of choice is The Clammy cowl so he is harder to hit.
Loonboss on Mangler Squigs (280)
– General
– Command Trait: Fight Another Day
– Artefact: The Clammy cowl
Um die Armee allgemein zu buffen und Command Points zu generieren nehme ich zwei Fungoid Cave Shamans mit ins Boot. Zumb and Zamb sind ihre Namen. Die Spells sind Squig Lure und Itchy Nuisance. Damit kann ich meine Squigs schneller in den Nahkampf bringen und gefährliche Einheiten des Gegners in der Combat Phase nach hinten setzen.
To buff the army in general and to generate command points I'll bring two Fungoid Cave Shamans. Zumb and Zamb are their names. The spells are Squig Lure and Itchy Nuisance. With the Squig Lure I can get my Bounderz faster into combat and with the other one I force dangerous enemy units to fight last in combat.
Fungoid Cave-Shaman (90) "Zumb da Fasta"
– Lore of the Moonclans: Squig Lure
Fungoid Cave-Shaman (90) "Zamb da itchy one"
– Lore of the Moonclans: Itchy Nuisance

Natürlich darf die Battleline nicht fehlen. Glücklicherweise verfügen Gloomspite Gitz über die billigste Battleline im ganzen Spiel (afaik). Daher nehme ich hier nur die Pflichtauswahl. Zwei kleine Squig Herds. Mehr gibt es dazu nicht zu sagen, außer, dass sie Objectives einnehmen und kurzzeitig halten sollen. Ja die Einheit ist sehr zerbrechlich, aber sie sollen ja auch nur back up geben.
Of course the battleline should not be forgotten. Luckily Gloomspite Gitz got the cheapest Battleline units in the whole game (afaik). So I just take the compulsory battleline. Two small Squig Herds. I guess I don't have to say a lot about them. They are just here to take objectives and are supposed to be a back up unit.
6 x Squig Herd (70)
6 x Squig Herd (70)

Kommen wir zum eigentlichen Kern der Armee, auch wenn diese keine Battleline ist. Zwei 10er Einheiten Boingrot Bounderz. Hier muss ich wohl einige Testspiele machen bevor ich mir sicher bin wie ich sie aufteile. Eventuell ist es auch klüger vier 5er Einheiten oder zwei 5er und eine 10er Einheit aufzustellen. Das werden die ersten Testspiele dann zeigen würde ich sagen.
Nehmen wir aber an, dass es zwei 10er Einheiten sind. Diese brauchen natürlich auch namhafte Anführer aus den noblen Reihen des Kourt of ze Moon. Der erste Trupp wird von Skarsnag Brimsmakka angeführt und der zweite von Gibgrit Sidleskulka.
Now let's talk about the main core units of the army even though they are no Battleline. Two ten men squads of Boingrot Bounderz. I guess I have to make a few test games before I am sure how to use them. May be I split them into four units of five or two units of five and one unit of ten. But we will see about that.
For now I'll take them as two units of ten. They need prestigious leaders taken among the noble ranks of the Kourt. The first unit is led by Skarsnag Brimsmakka and the second one by Gibgrit Sidleskulka
10 x Boingrot Bounderz (200)
10 x Boingrot Bounderz (200)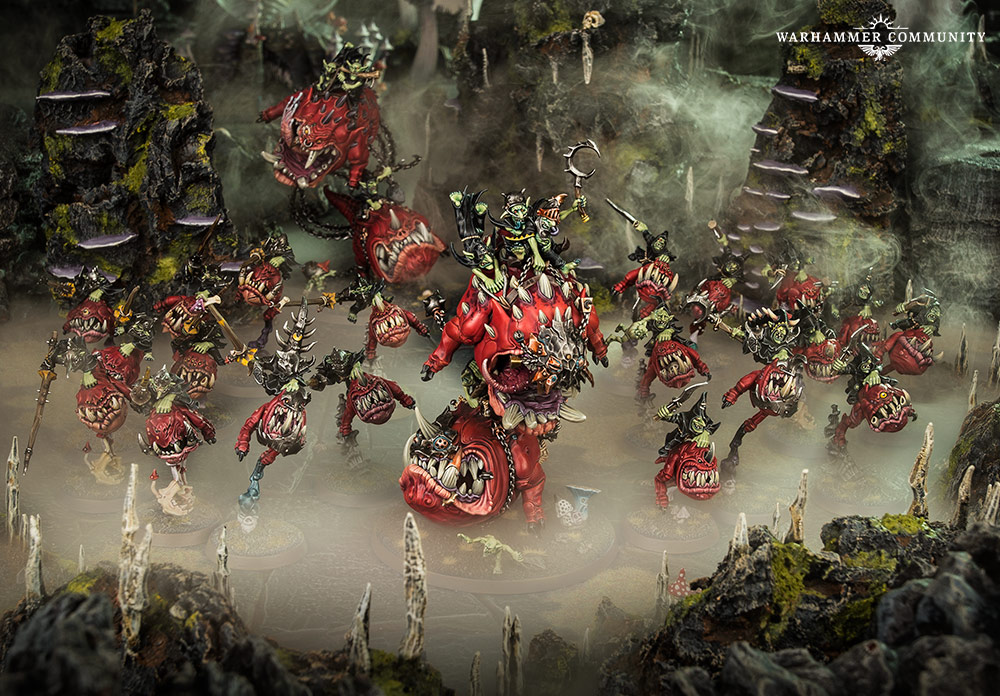 Das wären genau 1000 Punkte und die super Glass Cannon. Der Mangler Squig und die Bounderz könne recht gut austeilen, aber dafür nicht viel einstecken. Zu dem werden sie auch die Prioziele sein.
Bei 1000 Punkten wäre es vielleicht sogar besser die Bounderz zumindest einmal aufzuteilen.
Natürlich weiß ich auch, dass das keine super kompetitive Armee ist und sehr zerbrechlich. Besonders bei den wenigen Punkten. Aber sie passt sehr gut zu meiner Story und dürfte auf jeden Fall viel Spaß machen.
That would be exactly 1000 points and the super glass cannon. The Mangler Squig and the Bounderz can deal a lot of damage but cannot take a lot. They will also be the prio target for most enemies. At 1000 points it might be smart to split at least one Bounderz unit.
I know of course that this is no super competitive army and very fragile. Specially at these low point games. But they fit my backgroundstory and are fun to play.
Leaders
Loonboss on Mangler Squigs (280)
– General
– Command Trait: Fight Another Day
– Artefact: The Clammy cowl
Fungoid Cave-Shaman (90)
– Lore of the Moonclans: Squig Lure
Fungoid Cave-Shaman (90)
– Lore of the Moonclans: Itchy Nuisance
Battleline
6 x Squig Herd (70)
6 x Squig Herd (70)
Units
10 x Boingrot Bounderz (200)
10 x Boingrot Bounderz (200)
Total: 1000 / 1000
Extra Command Points: 0
Allies: 0 / 200
Wounds: 84
Damit wären wir am Ende meines ersten Listen Posts. Nächste Woche gehe ich auf meine geplante 2000 Punkte Liste ein. Sagt mir doch in den Kommentaren was ihr von der Liste haltet. Bis nächsten Mon(d)tag
That's the end of my first list post. Next week I talk about my 2000 points list. Let me know what you think about that list in the comments. Till next Mo(o)nday