Kourt of ze Moon – Gloomspite Gitz Army Project – Episode 04
Auch an diesem Mon(d)tag heiße ich euch Willkommen zu einer neuen Kourt of ze Moon Episode. Dieses Mal geht es weiter mit einer der Geschichte der Horde und es wird auch eine fertige Figur geben zum Abschluss.
I bid you a loony welcome for a new episode of Kourt of the Moon on this Mo(o)nday. This time I will continue with the background of the horde and I will show you one finished miniature in the end.
Wir endeten an der Stelle an der Rakgrot Boss Stigrank herausforderte. Ein Duell welches nicht spannender hätte sein können. Wie ihr euch aus Episode eins denken könnt gewann diese Rakgrot diesen Zweikampf. Inzwischen wird die Geschichte vom ihm dementsprechend aufgeblasen. Wirklich erwähnenswert ist das Ende. Nachdem bereits etliche Lanzen zerstört worden waren, schaffte es Rakgrot endlich Stigrank von seinem Reittier zu befördern. Dummerweise landete dieser vor seinem Squig, mit dem Namen OmNom. Kurzerhand wurde der alte Boss verspeist. Da OmNom während des Kampfes mehrfach verwundet wurde und dem Tode nahe, war dies das Letzte was der Squig tat.
Last time I stopped when Rakgrot challenged Boss Stigrank. A duel as never seen before. I am sure you all know how that duel ends till episode one. Rakgrot won the fight and he tells it a way to epic way. But the most important part was the end. After several lances were used Rakgrot finally managed to push Stigrank off his mount. Unfortunately he landed in front of his squig, called OmNom. Without further ado the squig ate his former master. OmNom was heavily wounded during the fight and near death so it was the last thing it did.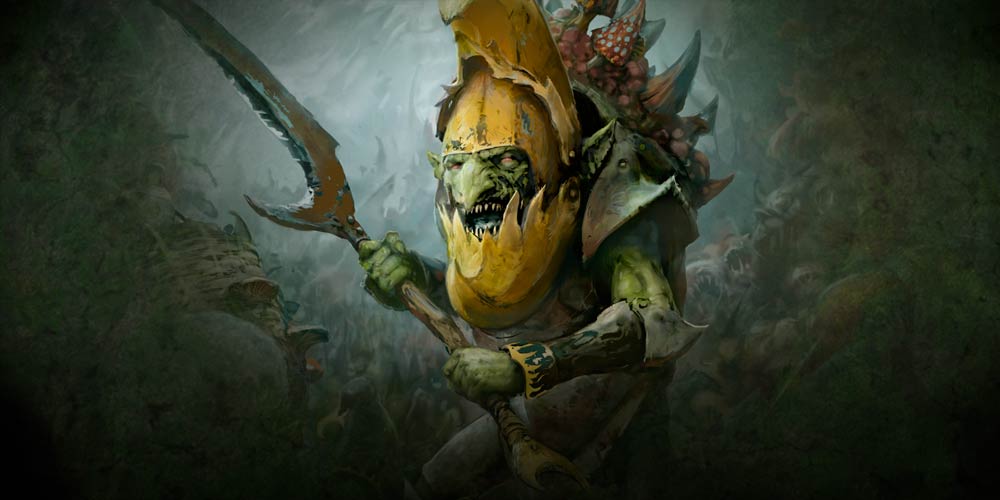 Rakgrot wurde der neue Boss und gab der Horde ihren jetzigen Namen "Kourt of ze Moon". In diesem Sinne gab er sich selbst auch einen neuen Titel und Namen. Von nun an war er Kount Rakgrot von Loonshinz. Gleichzeitig mit seinem Sieg stieg der Bad Moon auf. Für alle Grots war das ein klares Zeichen und sie strömten aus den Höhlen und brachten Verwüstung über das Land.
Rakgrot became the new boss and renamed the skrap to "Kourt of ze Moon". In this spirit he also took a new name and title. From now on he was called Kount Rakgrot of Loonshinz. At the same time he was victorious the Bad Moon rose. It was clear for every grot that this is a clear sign and the flooded the surface and brought devastation over it.
Ein einfacher Squig war einem "Adeligen" wie Kount Rakgrot nicht würdig. Er brauchte es was besonderes, etwas das er selbst erschaffen hatte. Etwas das Raffinesse hatte. So nutzte er die Überreste von OmNom und dem darin enthaltenen Boss. Sie waren die Nährquelle aus der seine zwei riesigen Squigs kamen. Warum auf einem Squig in die Schlacht reiten, wenn man auch auf zwei reiten kann. Seine Mangler Squigs bekamen passende Namen: King und Queen.
For a noble like Kount Rakgrot a "simple" Squig wasn't enough. He needed something more special something he created himself. So he used the remains of OmNom which contained the digested old boss. That was the substrate for two giant squigs. Why riding on one squig when you can ride on two. His Mangler Squigs got the perfect names: King and Queen.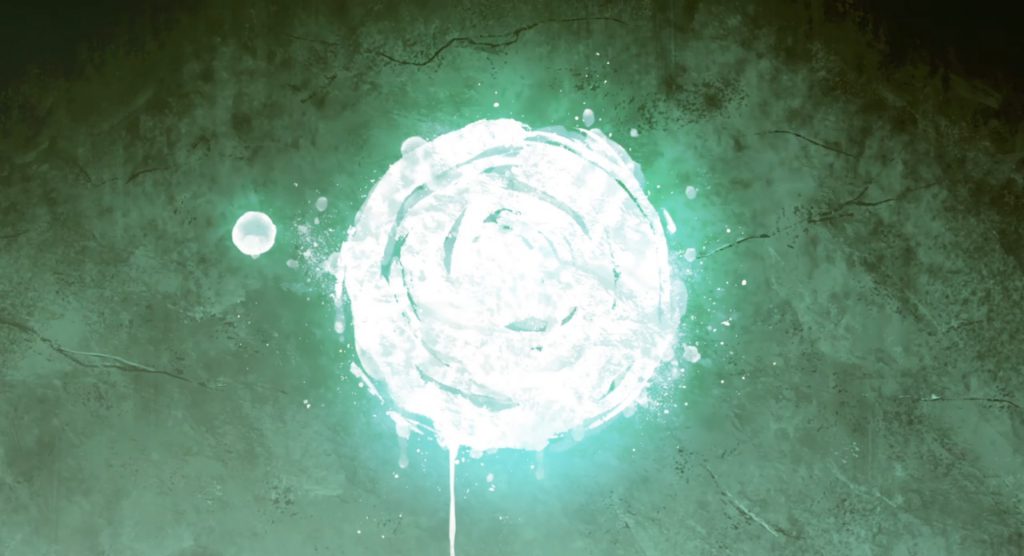 In einer Bad Moon Nacht hatte einer von Rakgrots Schamanen eine Vision von einem mondförmiger Pilz, aufgeladen mit der Energie des Bad Moons. Ein heiliger Pilz mit so viel Macht, dass er Rakgrot an die Spitze aller Grots bringen könnte. Von da an wäre es nicht weit alle Realms im Clammy-Dank zu hüllen. Dieser Pilz wächst in einem der Realms.
Dieser Verlockung konnte Rakgrot nicht widerstehen und beschloss sich auf die Suche nach diesem Fungus zu machen. So rief er einen Krukzade (von engl. Crusade = Kreuzzug) aus und versammelte alle seine besten Bounderz. Natürlich erzählte er niemanden warum sie genau nach diesen Pilz suchten.
In a clear Bad Moon night one of Rakgrots shamans had a vision of a moon shaped shroom loaded with the energy of the Bad Moon. A holy fungus with so much power that it could bring Rakgrot on top of all the grots. From there it wouldn't be far to bring the Clammy-Dank to all the realms. And this shroom was growing in one of the realms.
That was an opportunity that Rakgrot couldn't resist and he decided to look for that fungus. He proclaimed a Krukzade and gathered all his finest Bounderz. Of course he told no one why they were looking for that shroom.
Für so ein Unterfangen waren allerdings viele Lanzen von Nöten. Mehr als üblich. Somit war klar, die umliegenden Wälder müssen erst mal gerodet werden. Damit genug Material zur Waffenfertigung da ist. So machte sich die Horde auf um Holz zu besorgen.
For such a big campaign they need a lot of pokin' lances. More than usual. Therefore they had to clear all the surrounding forests. So that they have enough material for the weaponry. The horde is on its way to gather wood.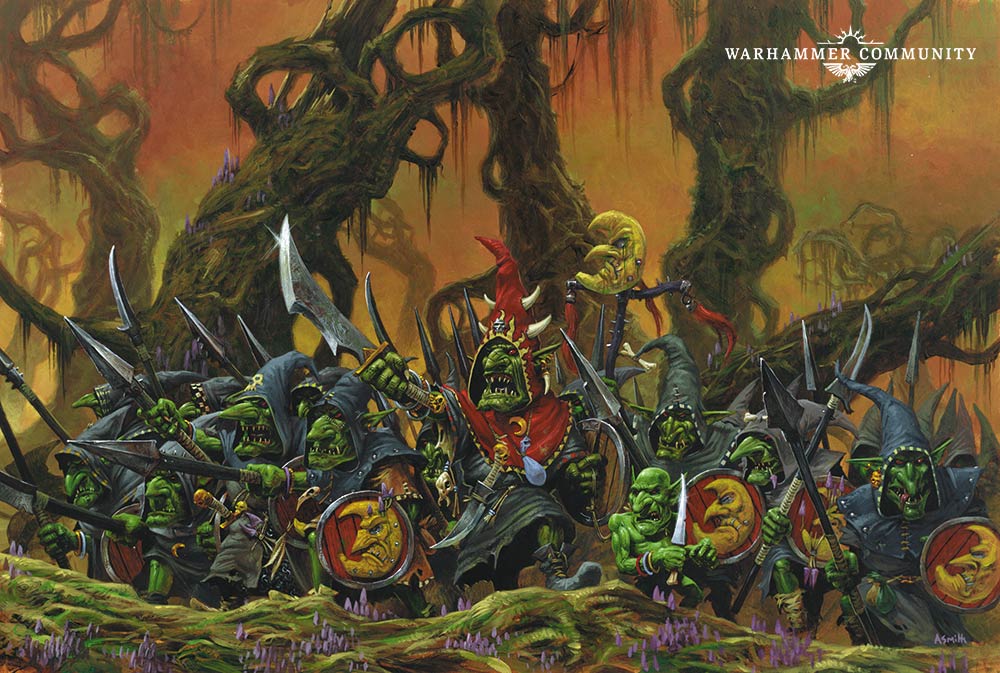 Rakgrot und seine Vasallen rotten sich zusammen um die Wälder unsicher zu machen. Das ist der Punkt an dem mein Armeeaufbau einspringt. Die Inspiration dafür bekam ich durch die Looncurse Box (welche ich leider nicht besitze). Der nächste Punkt der mich darauf brachte waren Bretonen die ich vor kurzem irgendwo gesehen hab. Diese sorgten allerdings mehr für die Backgroundstory als für das Aussehen der Figuren. Des weiteren liebe ich die Boingrot Bounderz Figuren, welche alle mit Lanzen bewaffnet sind. Das kommt einem Ritter sehr nahe.
Rakgrot and his vassals gang up to raid the forests. That is the moment were I start my army project. The inspiration for that came from the looncurse box (which I don't have unfortunately). Another thing that brought me the idea were some Bretonnians I saw the other day. I got the basic idea for the back story from those knights. Furthermore I love the Boingrot Bounderz models which are all armed with lances. That reminds me of knights a lot.
Damit sind wir auch schon wieder am Ende. Das heißt hier gibt es nun die erste fertige Figur. Ein Squig-Treiber.
We are nearly at the end of the post. That means I will show you my first finished miniature. A Squig Herder.
Ich hoffe euch gefiel der zweite Teil meiner Hintergrundgeschichte und wir sehen uns nächsten Mon(d)tag für den nächsten Artikel. Dann werde ich etwas mehr auf meine Armeeliste eingehen.
I hope you enjoyed the second part of the back story and we will see us next Mo(o)nday for the next article. This time I will talk a bit more about my army list.
Bilderquelle/Image source
www.warhammer-community.com
www.pinterest.com