Kourt of ze Moon – Gloomspite Gitz Army Project – Episode 03
Wie in der letzten Episode erwähnt möchte ich dieses Mal etwas näher auf die Background Story eingehen. Zu anfangs dachte ich, es werde schwierig werden so eine Geschichte zu schreiben. Das liegt wohl an den ganzen Realms und die unendlichen Optionen die Age of Sigmar bietet. Gleichzeitig gibt einem auch sehr viel Spielraum. Am Ende habe ich dann doch mehr geschrieben als ich dachte und kurzerhand beschlossen dies auf zwei Teile aufzuteilen.
Like I mentioned in the last episode I want to explore the background of my horde. In the beginning I thought that it will be hard for me to write such a story. That's probably because of all the different realms and the infinite options that Age of Sigmar offers. But at the same time I am very free because of that. In the end I wrote more than I thought and so I decided to split the background story in two parts.
Wie bereits erwähnt handelt es sich bei dem Kourt of ze Moon um eine spezielle Horde von Grots. Sie bezeichnen sich selbst als "Loonnoblez" und halten sich für besonders hochgeboren (ob das stimmt muss bezweifelt werden). Das wird auch daran fest gemacht, dass blaues Blut durch ihre Adern fließt. Bereits zu Beginn hatten die meisten Grots blaues Blut und keiner weiß genau warum. Eventuell liegt es ja an den Pilzen die in deren Lurklair wachsen. Die meisten glauben, dass es ein Zeichen des Bad Moons ist, der diese Grots hervor hebt.
As mentioned before the Kourt of ze Moon is special type horde of Grots. They call themselves "Loonnoblez" which means they are specially highborn (whether it is true or not). They claim that because of the blue blood running through their veins. Right at the beginning most of the grots were blue blooded and no one knows why. Perhaps the fungi growing in their Lurklair are the reason for that. Most of them believe it is a sign of the Bad Moon to emphasize this special grots.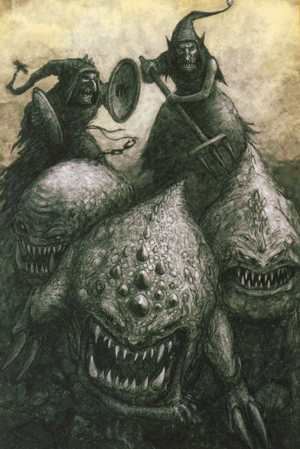 Fangen wir doch am Anfang an. Der Kourt of ze Moon hat seinen Ursprung in der Squigzüchtung. Die damals noch kleine Skrap (Teef of Mork genannt) gab sich nur mit den wildesten Squigs zufrieden und so beschloss man diese am besten selber zu züchten. So wuchs die Herde an und die Teef of Mork wurden für ihre Squigs bekannt. Ansässig im Realm of Life verkauften die Teef of Mork ihre Squigs an die dort größte Horde, den Jaws of Mork. Natürlich beteiligte man sich auch an Raubzügen mit den eigenen Squigreitern. Dabei stellten sie fest wie talentiert ihre Horde beim reiten solcher Tiere war.
Let's start with the beginning of the horde. The Kourt of ze Moon has its roots in squig breeding. Back than the small skrap (called Teef of Mork) considered themselves satisfied with only the wildest squigs and so they decided to breed them. The herd was growing and the Teef of Mork became famous for their wild squigs. Located in the Realm of Life they were selling their squigs to the biggest horde in the realm, the Jaws of Mork. Of course they participated in raids of the Jaws with their own squig riders. Thereby they realized how talented they were when it comes to riding and fighting on squigs.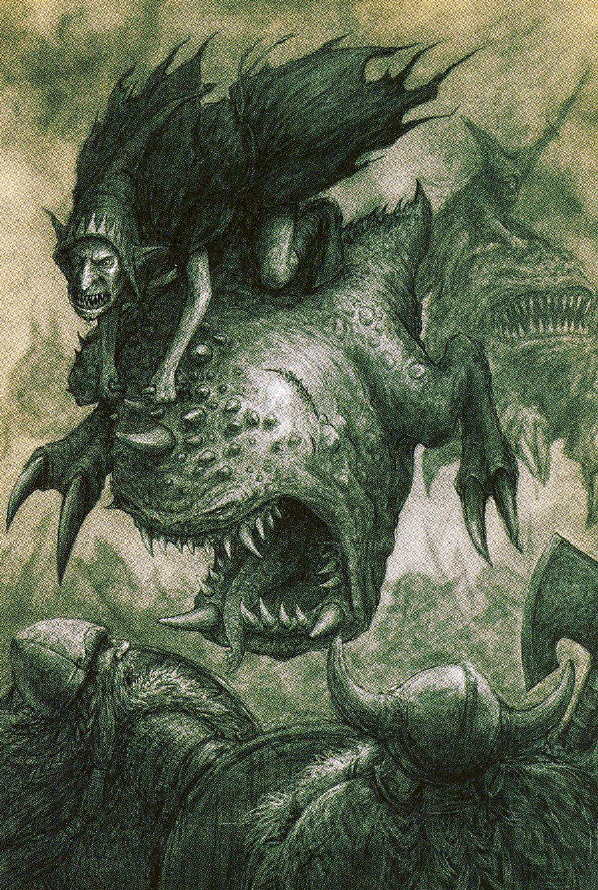 Dies führte dazu, dass sich unter den Teef of Mork eine gewisse Arroganz bildete und sie hielten sich schnell für die besten Squigreiter im ganzen Realm. Um dies auch untereinander zu beweisen, begann man mit dem Tjosten. Auch Streitigkeiten werden mit diesen Lanzenduellen auf Squigs abgehandelt. Recht oft kommt es vor, dass einer der Grots dabei drauf geht, was nicht zuletzt an den Reittieren liegt.
Trotz der zahlreichen Opfer bei diesen Duellen, durch die Squigzucht und das Reiten dieser Geschöpfe im Allgemeinen begann die Horde zu wachsen.
As a result the Teef of Mork became very arrogant and thought of themselves as the best squig rider of the whole realm. To prove that among themselves the started to joust. Disputes are solved in these pokin' lance duels on squigs as well. Some of the grots die at these duels quite often. Their mounts might also be a reason for these deaths.
Despite the high losses in these duels, during the squig breeding and riding on those creatures the skrap started to grow larger.
Bereits in den Anfängen stach einer der Squigzüchter hervor – Git Rakgrot. Seine Squigs waren besonders aggressiv. Gleichzeitig schaffte er es aber auch diese unter Kontrolle zu halten. Auch sein Reitstil war allen anderen überlegen. Der damalige Boss Squiglord Stigrank Deathshinz ernannte ihn daraufhin zum Anführer seiner Bounderz Truppe.
Already in the beginning one of the squig breeder stood out – Git Rakgrot. His squigs were especially aggressive and at the same time he managed to control them outstandingly. His riding style was superior to everyone else. That caught the former Boss Stigrank Deathshinz's eye and he promoted Rakgrot to the leader of his Bounderz troops.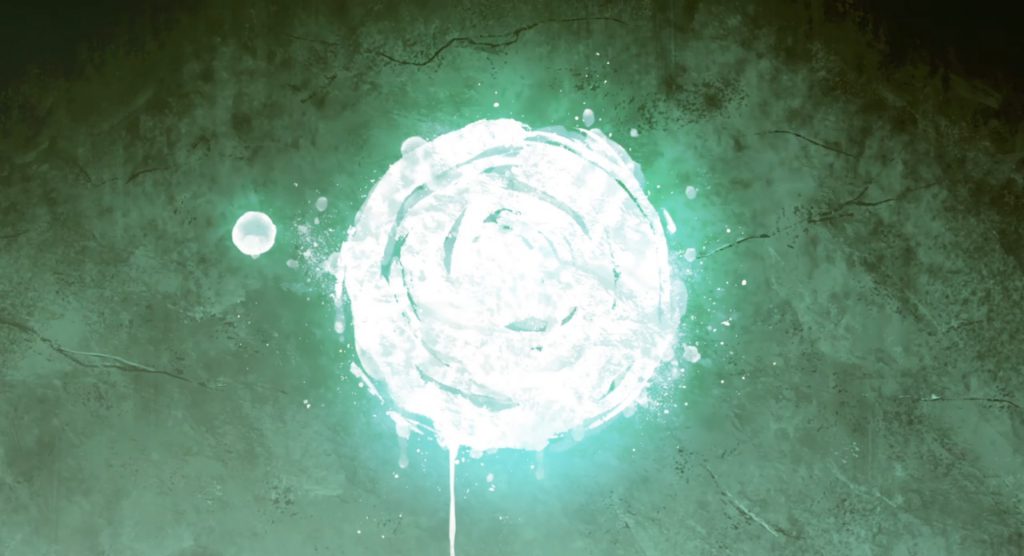 Eines Tages verlies das Glück den Boss Stigrank. Der Bad Moon wollte nicht mehr aufsteigen. Zuerst kam die Langweile und dann die Unruhe. Rakgrot erkannte seine Chance um etwas für Ruhe zu sorgen und gleichzeitig sich an die Spitze zu befördern. Er veranstalte ein großes Spektakel in dem die besten Squigreiter gegeneinander antraten und zu guter Letzt forderte er Boss Stigrank heraus. Es kam wohl zum spannendsten Duell aller Zeiten für die anwesenden Grots.
Some day Boss Stirank's luck ran out. The Bad Moon stopped rising. First there was the boredom than there was the unrest amongst the horde. Rakgrot saw his chance and to calm the grots and to become the leader. He arranged a huge spectacle with his best squig riders who were fighting each other. For the final he challenged the Boss Stigrank. It was the most exciting duel the grots have ever seen.
An dieser Stelle beende ich die Story. Nächste Woche gibt es die Fortsetzung. Eventuell ändere ich noch etwas wenn es nicht zum allgemeinen Lore passt, aber so im Großen und Ganzen kann man das so stehen lassen. Wie vielleicht bemerkt, habe ich den Namen meines Protagonisten etwas abgeändert, da mir der vorherige Name etwas zu plump war.
Ich hoffe ihr habt an dem Projekt bis jetzt so viel Spaß wie ich und Nächsten Mon(d)tag geht es dann weiter. Leider war ich diese Woche zu sehr mit anderen Dingen beschäftigt, weswegen ich keine Figur fertig gekriegt habe. Nächste Woche sollte aber dann was stehen.
Lasst mich in den Kommentaren wissen was ihr von der Story haltet oder ob ich einen Fehler bezüglich der AoS Lore gemacht habe
At this point I stop. Next week you will get the second part of the story. May be I have to change something if it doesn't fit to the overall lore but overall I think it is good the way it is. As you may have noticed I changed the name of the protagonist (and changed the writing of the clan) because the first name was to "ungraceful".
I hope you enjoy the project as much as I do and I will continue the story next week. Unfortunately I was too busy last week and I could finish a miniature. Next week you will see some for sure.
Let me in the comments know what you think about the story and if I made a mistake lorewise.
Bilderquelle/Image source
www.warhammer-community.com
www.pinterest.com
https://warhammerfantasy.fandom.com/wiki/Night_Goblin_Squig_Hopper