Kourt of ze Moon – Gloomspite Gitz Army Project – Episode 02
Willkommen zur zweiten Episode von "Kourt of ze Moon".
Welcome to the second episode of "Kourt of ze Moon".
Dieses Mal geht es voll und ganz um Farben und die Bestimmung meines Farbschemas. Wie schon in der ersten Episode erwähnt möchte ich diese Goblins nicht klassisch Grün bemalen. Da blaues Blut durch die Adern meiner Grotze fließt dachte ich eben eher an einen blauen Teint bzw. kälteres Blau-Grün.
This time I want to talk thoroughly about colors and the final decision of my color theme.
In the first episode I mentioned that I don't want to paint my Goblins in classic green. Since there is blue blood running through their veins I thought of a more bluish complexion respectively a cold blue green.
Dabei kam mir, dass ich bereits eine Haut in dieser Art bemalt habe und zwar für die Eröffnung des Warhammer Stores in Pasing bei München. Es handelte sich dabei um einen Great Unclean One aber das spielt ja keine Rolle. Hier ist übrigens ein schlechtes Bild von dem Werk aus meiner Instagram Story. Wer ihn in Persona sehen möchte, kann dies im Warhammer Store in Pasing tun. Leider hab ich nicht gewonnen damit.
Thereby I remembered that I already painted a skin tone like that for the Warhammer Store opening in Pasing near Munich. I painted a Great Unclean One. Here is a mediocre picture of him from my Instagram story. If you want to see that miniature in person you have to visit the Warhammer Store Pasing. Unfortunately I didn't win.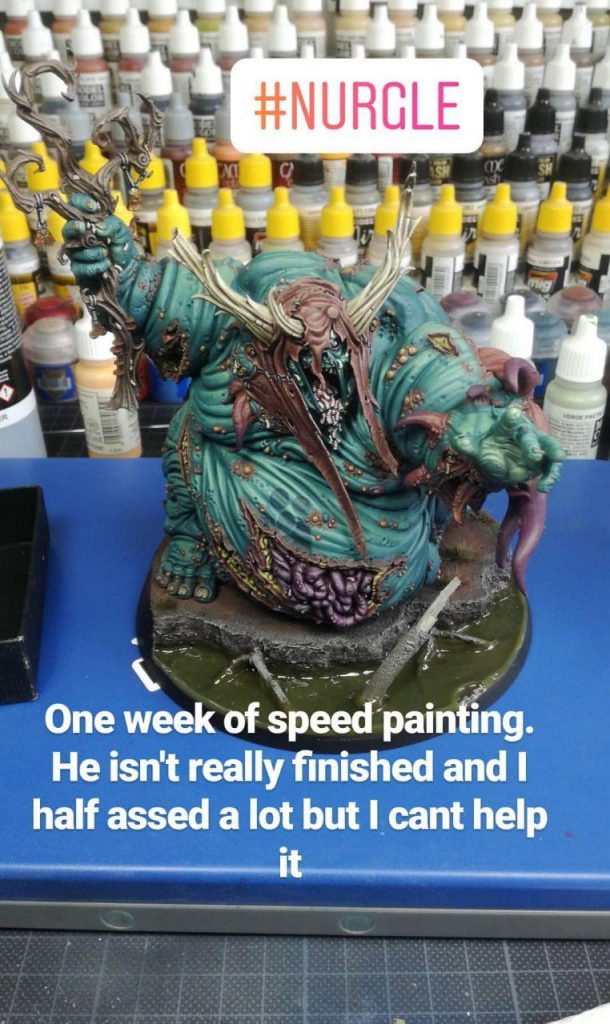 Leider musste ich feststellen, dass ich das Rezept für diese Haut nicht aufgeschrieben hab. Allerdings wurden ähnliche Hauttöne bereits von anderen gemalt, also war es nicht schwer ein neues Rezept wieder zusammen zustelllen. Dabei kam das hier als Ergebnis raus:
I sadly realised then that I didn't write down the recipe for that skin. Luckily other people painted similar skins and wrote it down and it wasn't hard to find enough inspiration for that. Here is the first result:
Zwar gefiel mir das bereits ganz gut, aber irgendwie wollte ich noch einen Hauch von Grün reinbekommen also ging das Testen fröhlich weiter. Mein nächstes Ergebnis war dann leider zu grün:
Admittedly I already liked that but somehow I wanted a little bit more green in it so I continued with testing. My next approach was too green.
Dieser Grünton passte etwas besser zu den Farbtönen des Squigs aber ich war nicht zufrieden. Natürlich hatte das auch was damit zu tun, dass ich die Schatten zu hart gesetzt hatte. Was mir jedoch gut gefiel war das Lila in den Schatten und vorne an der Nase. Ich malte also einen neuen Test. Dabei ging es mir auch darum Farben zu finden die vielleicht schon vorgemischt waren. Kurzerhand machte ich einen Ausflug zu meinem LGS und kaufte einige Farben.
Die Farben für diesen Test waren alle vorgemischt. Sie kamen auch näher an das ran wie ich es mir vorstellte. Aber die Schatten waren immer noch zu hart und der mittlere Farbton ließ sich nur schwer auftragen, da diese Farbe einfach so gut wie nicht deckt. Also vollkommen ungeeignet um damit anzufangen. Wie man sieht hab ich die Sache mit dem Lila beibehalten.
This green fitted better to the color of the Squigs but I wasn't happy with it. The shadows were painted to dark which was one of the reasons why I didn't like it. What I did like was the purple in the shadows and on the tip of the nose. So I painted a new test miniature. I also tried to find ready to use colors so I don't have to mix my color together. Without hesitation I went to my LGS and bought a few new colors.
The paints for my next test were out of the jar and not mixed. These colors came closer to what I had in mind. But the shadows were still to dark und the color for the mid tones were not opaque enough to start from there. As you see I kept the thing with the purple shadows and nose tip.
Ich kehrte also zurück zum Farben mischen. Es ist natürlich möglich, dass irgendein Hersteller diesen Farbton hat, aber dazu müsste ich die Farbe dann online bestellen und wegen einer Farbe mache ich so etwas nicht. Dazu kommt, dass sich die Farbe eventuell vom Bild abweicht und sich anders verhält wenn ich sie mit meiner gewünschten Highlightfarbe vermische. Jedenfalls nahm ich die Mischung von Anfang (auch hier wurden natürlich verschiedenste Tests gemacht bei der Mischung) und mischte sie mit einem meiner gekauften Grüntöne in der Hoffnung das richtige Farbspektrum auf meiner Figur zu bekommen. Dabei kam folgendes raus.
I went back to mixing my own tone. It might be possible that one of the many manufacturers has the perfect color. But then I had to order it online and I am not doing that because of one color. Moreover the color could look different in real life and changes differently when I add my preferred highlight color. Anyway I took the the mixture from the beginning and added one of my new green tones to it in the hope that I get the perfect color spectrum on my model. Here is the result.
Die Highlights könnten etwas stärker sein, aber im Großen und Ganzen ging das schon in die richtige Richtung. Trotzdem gefiel es mir nicht und ich machte einen neuen Test. Manchmal ist es besser einfach weniger Farben zu nehmen. Ich nahm eine leicht andere Mischung meiner Anfangsmischung und arbeitete mich langsam hoch mit nur einer Highlight-Farbe.
The highlights could have been stronger but overall I liked the result. Still I wasn't pleased and made a new test. Sometimes it is better to use less colors. I took my mixture from the beginning, changed the ratio and worked from there with one highlight color.
Und das wird es sein. Die finale Hautfarbe für meine Gloomspite Gitz. Es is blau und gleichzeitig genug grün für mich. Auch den lila Ton in den Schatten finde ich sehr stimmig.
Bei den Augen bin ich mir nocht nicht ganz sicher. Eventuell werden sie Orange oder etwas in die Richtung.
Die Squigs werden ebenfalls die Farben bekommen die ihr auf den Bildern seht. Ich arbeite bereits an der ersten Figur, einem Squig-Treiber.
Heute Abend werde ich dann wohl mit dem zweiten Squig-Treiber auf Twitch anfangen.
And that's it. The final skin color for my Gloomspite Gitz. It is blue and at the same time greenish enough for me. I also like the purple in the shadows here very much.
I am still not sure about the eyes. Perhaps I will paint them orange or something like that.
The Squigs will get the colors on the pictures you see above. I am already workin on the first miniature a Squig herder. Todays evening I am going to paint the second one on Twitch.
Vielen Dank fürs Lesen und ich hoffe es bereitet euch so viel Freude wie mir. Nächsten Moonday gibt es dann wohl ein fertiges Modell zu bestaunen und eventuell schaffe ich es etwas mehr über den Background zu schreiben.
Thank you very much for reading and I hope you enjoy it as much as I do. Next Moonday you will see a finished model and may be I am able to write a little bit more about the background of my army.